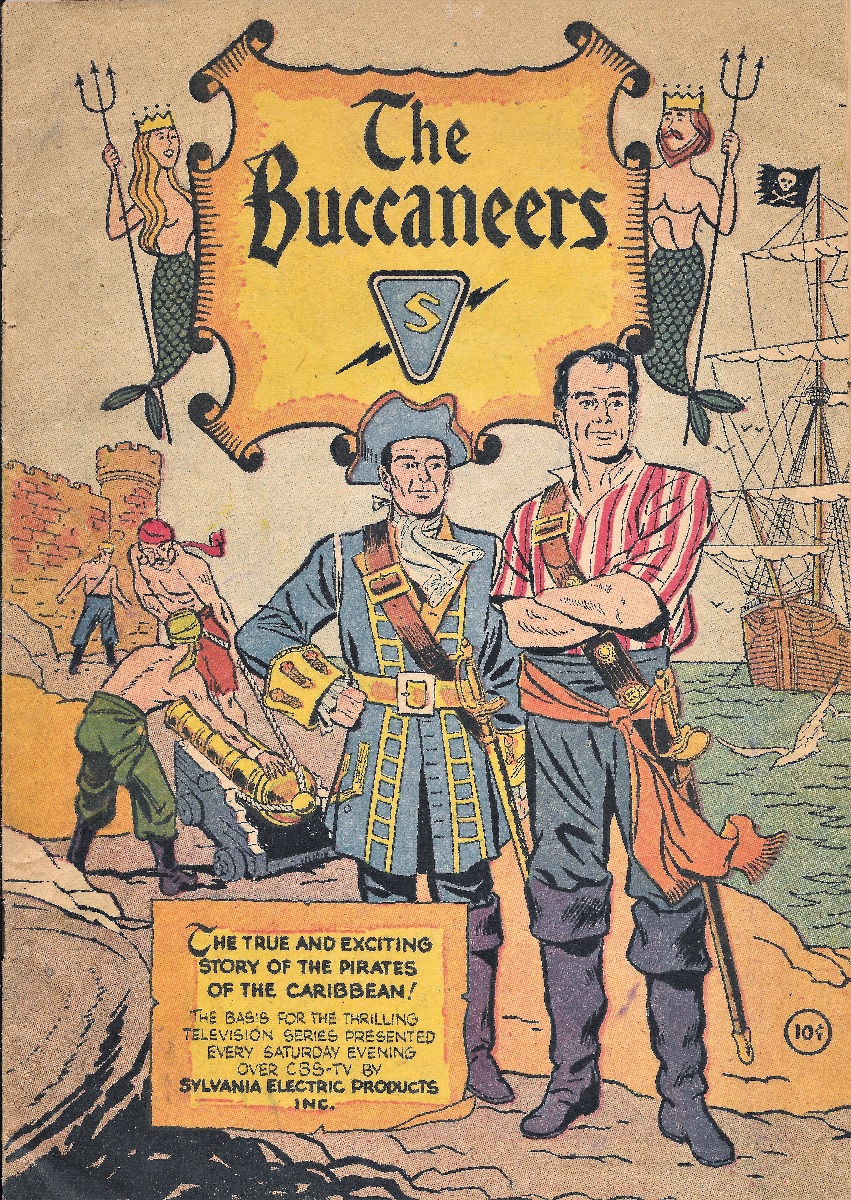 The Spy, the Reds and THE BUCCANEERS
©2020 Ken Quattro
"Down, down, down. Would the fall never come to an end! `I wonder how many miles I've fallen by this time?'"
Lewis Carroll found a way of expressing the absurd lengths one goes once a journey is undertaken. It's like he knew me.
It began simply enough. I found a giveaway comic up for auction I had never seen before. I bid, I won and when it finally arrived, I started upon my usual habit of researching its history.
The comic was titled THE BUCCANEERS and apparently much of what I wanted to know was encased in a text scroll on its cover.
"The true and exciting story of the pirates of the Caribbean!
The basis for the thrilling television series presented every Saturday evening over CBS-TV by Sylvania Electric Products Inc."
The comic itself is a standard-sized giveaway, 16 pages long with paper covers. Although uncredited, the artwork appears to be that of John Rosenberger, a veteran artist of many Golden and Silver Age newsstand comics. He also had a parallel career working in advertising, specifically for Louis Birk's Brevity Inc., which produced several promotional comics in the early to mid-1950s.
"The Buccaneers" was a 1956, British-made, swashbuckling series from the same producers as "The Adventures of Robin Hood." While I don't recall "The Buccaneers," I remember the latter one well. It starred Richard Greene and its theme song still rattles around in some dark recess of my brain.
[a way OT note: Both programs themes were sung by Dick James who later teamed with Brian Epstein, Paul McCartney, and John Lennon to form Northern Songs to publish the duo's Beatle music.]
The setting for the series was the early 1700s and took place in and around the Bahamas, specifically the island of New Providence. The ostensible hero of the show was Captain Woodes Rogers, a real-life sea captain who numbered among his accomplishments the rescuing of Alexander Selkirk, the castaway whose story became the premise for Daniel Defoe's ROBINSON CRUSOE.
King George I gave Rogers the lease to the Bahama Islands for the sum of £50 a year and the title of Governor-In-Chief over them. He was also tasked with ridding the island of the pirate stronghold there. To do so, he recruited former buccaneers who were granted pardons from their crimes as reward.
Three episodes into the series the real hero of the series appears, Captain Dan Tempest, commander of the pirate ship, "Stormy Seas." Tempest was played by actor Robert Shaw, who went onto larger roles in American films and was best-known as Quint, skipper of the "Orca," who could have used a bigger boat.
The main villain of the series was the notorious Blackbeard, but in one episode, Tempest confronted female pirate Anne Bonny, played by Hazel Court, who gained future notoriety as one of Roger Corman's "scream queens" in his 1960s horror films.
Rosenberger either had no photo models or made little effort to portray the actors from "The Buccaneers" accurately. In any case, the artwork is solid, as is the story which basically summarizes the series premise and introduces its main characters. There is also a two-page map of the Caribbean Sea as the centerspread and the back cover is an ad for the program along with a blank box in which the local channel carrying the show could be printed.
The only other bit of information needed is found in the copyright notice:
"© 1956 by William R. Hutton Assoc. Inc., 56 W. 45th St., New York 36, N.Y."
And this is where the trip down the rabbit hold started.
A contemporaneous trade magazine related a bit more information about the company. According to its listing, William R. Hutton Associates, Inc. specialized in "commercial comics, complete package deals." [Art Direction. United States, Advertising Trade Publications., pg. 97, 1956.]
Such an ad would seem to indicate they produced more than this one giveaway for "The Buccaneers." But the only other confirmed comics found to date are STEPPING STONES TO SUCCESS, a 1956 promo for Warner-Lambert's Listerine mouthwash and KEEP YOUR HOME SAFE FROM FIRE, copyrighted September 1957. It was a fire prevention comic with a supposed print run of 1,000,000 copies that was distributed to school children by the New York Fire Department in the early months of 1958. ["City Firemen Open Prevention Drive," New York Times, Feb. 2, 1958.]
So, who was William R. Hutton? Among other accomplishments, he was a high-level British spy.
William Renzard Hutton was a British expatriate who came to America in 1950.
Born in the city of Sunderland, in the north of England 1916, Hutton was a precocious 17 year-old when he started upon a career as a roving reporter. His assignments took him to various locales throughout the British Commonwealth and landed him a job at the Continental Daily Mail in Paris. But his career took a decided turn when he met some preachers from Aimee Semple McPherson's Four Square Gospel Church. The convinced him to join their evangelistic crusade to the atheistic Soviet Union in search of converts.
"They considered me a very worldly young man," Hutton told an interviewer years later, "and so they took me along as an interpreter both of languages and ideas."
"We slipped into Russia and went from hut to hut, gathering six or seven people together and trying to talk to them. We got as far as Smolensk before the Soviet government kicked us out." [Wickstrom, George, "The Town Crier," Rock Island Argus, May 12, 1950.]
Left unsaid in this account was the fact that the Russians suspected Hutton and the others were actually spies. They were correct.
When Nazi Germany invaded Poland in September 1939, Hutton returned to England and enlisted in the British Army. Since he had knowledge of Mideast customs and spoke some Arabic, he was assigned to north Africa, where he was disguised as an Arab in order to spy upon the occupying German forces.
He was next sent to Italy where he served alongside American troops on the Anzio beachhead. His mission there was to place landmines behind enemy lines. His bravery led to him being awarded the Military Cross, one of Britain's highest military decorations for bravery.
Promoted to a Company Commander in the Fifth Battalion, Hutton and his men were sent to Greece before they parachuted into Yugoslavia and fought with Josip Broz Tito's partisans against the Germans. At the war's end, Hutton was stationed in Vienna, Austria, where he was demobilized and found a position there with the British Information Services (BIS).
The BIS was the propaganda arm of the British Foreign Office, with the main objective of promoting Great Britain's interests overseas. Hutton was made head of the Vienna office and it was while serving in that job that he met his future wife, an American woman who worked for the US State Department.
Vienna was jointly occupied and administered by the four major Allied powers after WWII and Hutton's real assignment as BIS head was to spy upon the Russians.
In June 1949, his wife-to-be returned to the US and Hutton soon followed. They married and settled in Washington, DC, where he was once again named head of the BIS office in that city. Their stay was short, though, as they moved in February 1950, to her hometown of Chicago. Once again, Hutton became chief of the local BIS branch office.
Hutton would often give lectures to captivated Midwesterners who gathered to hear of his exploits as a "cloak and dagger man" and his opinions on world affairs. He was surprisingly open about his previous occupation and gave many such talks throughout the region, headlined as Major William R. Hutton, in recognition of his rank within the British Army.
Vocally anti-Communist in his public talks, Hutton's personal politics were a little more nuanced. He was described as "a [liberal] Labor party man, although his family is Churchill Conservative." [Wickstrom, ibid.]
Commenting on continuance of American involvement in Korea after signing a truce, Hutton suggested:
"Withdraw all aid. We must stop the slaughter of our own boys. If [Syngman] Rhee does fight on, and, as a result of the new fighting, the Reds lick the South Koreans and sweep into South Korea, our Chiefs of Staff should decide whether or not the country is worth holding." [Jemail, Jimmy, "The Inquiring Fotographer," New York Daily News, June 11, 1953.]
Hutton left his position with the BIS in July 1952 and joined public relations men Kenneth Boehnert and C. Stuart Siebert Jr., formerly of the huge J. Walter Thompson agency, and formed the new firm of Siebert, Boehnert & Hutton.
Soon, Hutton and family moved to New York City where he took charge of the company's new branch office. He maintained his side gig as well, giving lectures now in the eastern and mid-Atlantic states.
By 1956, Hutton had left Siebert, Boehnert & Hutton and formed his eponymously-named advertising firm. It is hard to know why he left or why he decided upon the direction he took his new company. Nothing in his résumé indicated that he had any knowledge of, or interest in, commercial comics. It was a specialized part of the advertising field and he would be competing for clients against others who had far more experience in it.
Furthermore, why had Hutton's company been chosen to produce THE BUCCANEERS comic for Sylvania Electric? They were a well-established client of the mammoth J. Walter Thompson advertising agency. The same firm C. Stuart Siebert Jr. left previously in order to partner with Hutton. Did he pull some strings to get Hutton the job? Or was Hutton's company producing the commercial comic as a subcontractor for J. Walter Thompson?
Perhaps a closer look at the producer of "The Buccaneers" series would supply some answers.
Although it filmed at Twickenham Studios in London, England, Sapphire Films Ltd. was owned by an American named Hannah Weinstein, who formed the company primarily to employ American writers and other industry personnel who had been blacklisted in Hollywood.
Born Hannah Dorner in New York City on June 23,1911, Weinstein attended New York University, graduating with a degree in journalism. After securing a job as a reporter for the New York Herald-Tribune, Dorner married another reporter named Pete Weinstein, but continued to work under her own name. Politically active, she worked on the campaigns of New York City Mayor Fiorello La Guardia and later, the 1940 and 1944 campaigns of President Franklin D. Roosevelt.
In 1944, Dorner helped form the Independent Citizens Committee of the Arts, Sciences and Professions (ICCASP), a left-wing organization whose membership included many of the entertainment, literary, academic and arts communities. Individuals within the group possessed ideologies ranging from liberal New Deal Democrats such as Ronald Reagan, to ardent Stalinist Communists. Dorner definitely fell on the furthest left of that spectrum. By 1946, she was Executive Director of ICCASP.
Like many at the time, Dorner would neither confirm nor deny that she was a Communist. She was once quoted as saying, "Says who and so what? If the ICCASP program is like the Communist line, that is purely coincidental." ["Political Notes: Glamor Pusses," Time, Sept. 9, 1946.]
Dorner was active as well as the press agent for the National Council of American-Soviet Friendship, another left-leaning organization accused of being a front for the Communist Party.
When Henry Wallace ran for President of the United States in 1948 as the candidate of the leftist Progressive Party, Dorner was named as his head publicist. But her biggest organizational accomplishment came from her part in the so-called "Waldorf Conference" in late March 1949.
The conference was held at New York's Waldorf-Astoria Hotel and touted as a "world peace" symposium. Suspected as being covertly sponsored by the Soviets and "another step in the Communist Information Bureau's (Cominform) campaign to shape Western opinion." ["Origins of the Congress for Cultural Freedom, 1949-50," CIA historical document, posted: Apr 14, 2007.]
The gathering of some 800 American, European, and Soviet delegates listened as one speaker after another attacked the United States. American playwright Clifford Odets denounced his country as "the enemies of Man," while Russian composer Dimitri Shostakovich "urged progressive artists to struggle against the new 'Fascists' who were seeking world domination." [ibid.]
Though a Harvard astronomer name Harlow Shapley was chairman of the conference, in reality it was Dorner who put it together.
"…there is no doubt that the CPUSA [American Communist Party] was central to the organization of Waldorf," according to cited FBI files, "Hannah Dorner, the executive secretary of the NCASP [successor to ICCASP] and a driving force behind Waldorf, was undoubtedly a party member."
The outcome of the conference was mixed, as the hardline Stalinists and more traditional liberal wings of the left found they were incompatible. It also came at a time when the Cold War was heating up. The House Un-American Activities Committee (HUAC) had convicted the "Hollywood Ten" for contempt of Congress in early 1947, resulting in creation of the first blacklist and more governmental inquiries were soon to come.
Then, in June 1950, the influential and notorious pamphlet RED CHANNELS was published, listing the names and leftist affiliations of 151 members of the radio and television industry. These people, too, soon found themselves unemployable in the entertainment industry.
Against such a backdrop, Hannah Dorner, now using her married last name of Weinstein, boarded a ship in September 1951, and headed to France with her three daughters in order to escape ostracizing and possible imprisonment in the United States.
Weinstein spent two years in Paris learning aspects of television production before relocating with her family to England.
The Weinstein's purchased Foxwarren Park, an estate in Surrey, where she had sets built for "The Adventures of Robin Hood" and a subsequent series, "The Adventures of Sir Lancelot."
The funds to purchase Foxwarren and to form Sapphire Films were suspected to come from CPUSA benefactors back in America. In any case, the production company's purpose was to create work for the blacklisted Hollywood screenwriters, and it did. Among the writers she employed were Ring Lardner Jr. and Waldo Salt, who would later win Oscars for the scripts of "Midnight Cowboy" and "Coming Home."
"The Buccaneers," following in the footsteps of the success of the "Robin Hood" series, continued giving work to the disenfranchised writers who wrote under pseudonyms in order to prevent retribution from Hollywood producers. Weinstein even hid their identities from her American distributor, Official Films, but the writers were concerned, nonetheless.
"…[Ring] Lardner was worried by Weinstein's security measures. He knew that at some point her partners at Official Films were going to want to have a face-to-face meeting with the show's writers. And neither he nor Hunter could leave America and go London as their passports had been sequestered by the FBI." [Mathews, Tom Dewe, "The Outlaws," The Guardian, Oct. 7, 2006.]
His fears went unrealized, though, as they never were found out. "The Buccaneer" only lasted one season before its cancellation in June 1957. Sapphire Films, however, remained successful and provided a welcome income for the blacklisted writers until their banishment gradually disappeared and they could secure work in America once again.
In light of all that Sapphire Films had to hide—the source of its financing and its hiring of suspected Communist writers—did they seek out William R. Hutton purposely to produce their giveaway comic book? Did this former British spy, who had worked undercover for years spying on the Russians, have a covert connection to Weinstein or someone else within her company? Given the backgrounds of those involved, it seems more than coincidental that his new agency was given this job based upon experience, because they had none.
`Curiouser and curiouser!' cried Alice…