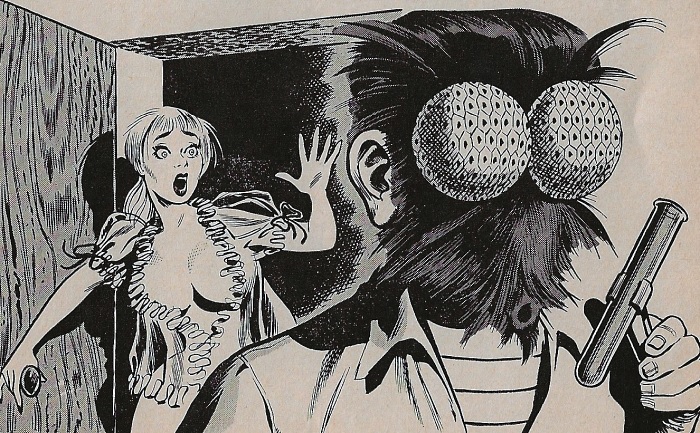 Having a FLING: "I Married A Teen-Age Fly"
The late 1950s were rampant with PLAYBOY magazine imitators. Hugh Hefner's skin mag is one of the greatest success stories in publishing and everyone wanted a piece of the action.
In 1957, Relim Publishing Company of Chicago entered the scrum with a paperback-sized PLAYBOY knock-off entitled FLING.
Owned and edited by Arv Miller, FLING didn't have much to distinguish itself from its myriad competitors except for some occasional photography by Russ Meyer. In its thirteenth issue, though, they decided to take a run at horror comic books.
The story, "I Married A Teen-Age Fly," was actually parodying contemporary movies, such as "The Fly" and "I Was a Teenage Werewolf," but the back cover of the mag specifically stated that the Virginia R. Francis script was "A wild satirical whack at horror comics." An interesting claim, considering the horror comic genre had been bowdlerized by the institution of the Comics Code Authority back in 1954.
Still, it is possible to see the latent impression of EC on Francis' story. It's not of Feldstein quality, to be sure, but it is a nod in his direction.
The art to to the story was supplied by Don Margolis, a Chicago-area cartoonist who worked mostly in mainstream publishing doing spot illustrations and cartoons. A versatile artist who worked in a variety of styles, FLING seems to have been the main outlet for Margolis' risque work.