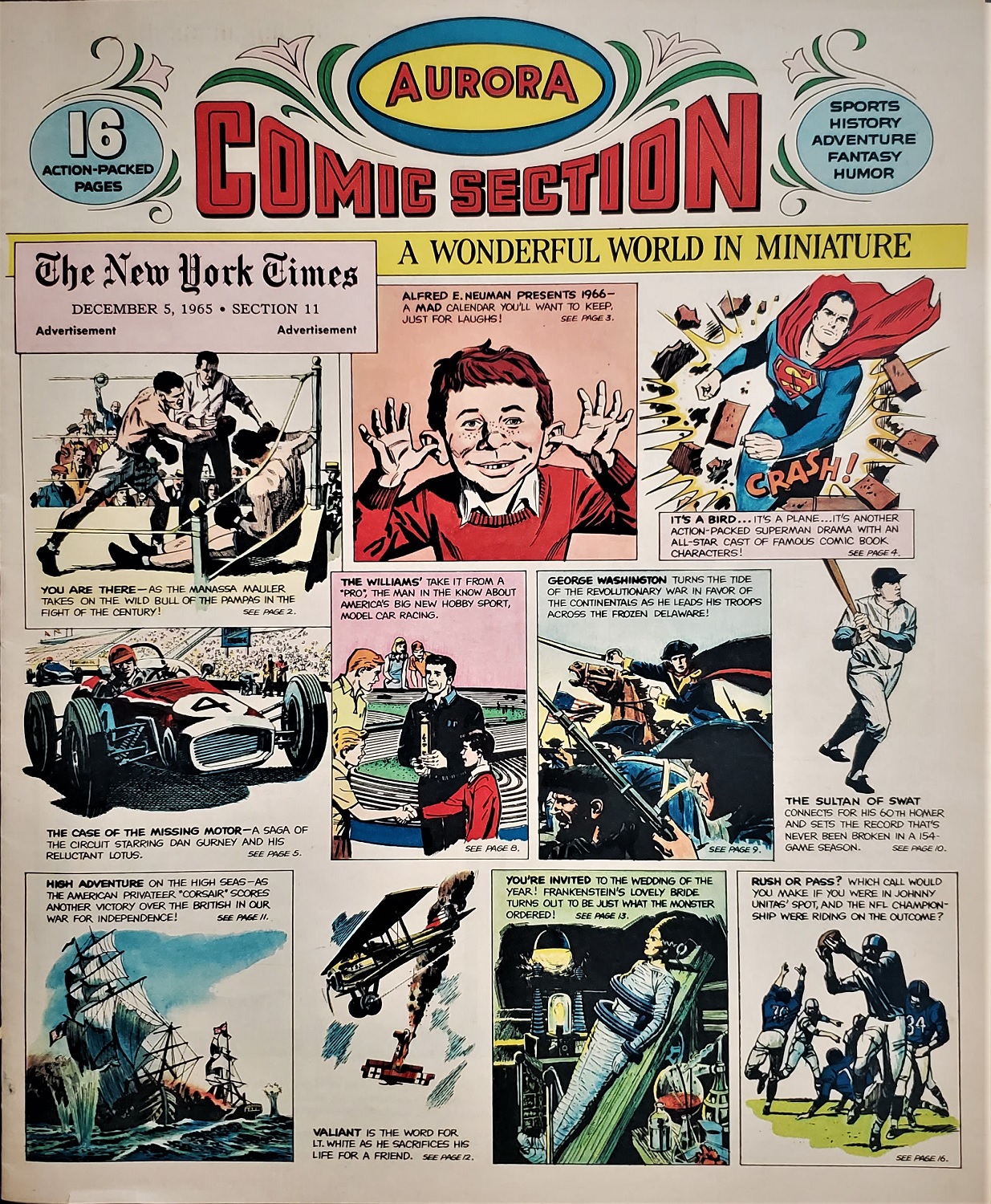 AURORA COMIC SECTION (Dec. 5, 1965)
©2020 Ken Quattro
Aurora Plastics products comprised a major part of my childhood. I had an Aurora N-guage model trains set, and Aurora slot car set, and I built a ridiculous number of Aurora models during my youth. Model planes, model cars, model ships. When they came out with models based upon historic sporting events–Babe Ruth hitting his 60th home run, Dempsey fighting Firpo–I got those and built them, too.
But I was ECSTATIC when they came out with both Universal monster models, such as the Wolfman, Dracula and the Frankenstein monster, AND also models of Superman, Batman and eventually, Marvel characters!
The year 1965 was the peak of "my Golden Age." I was 12 years old and by Christmas, Jules Feiffer's GREAT COMIC BOOK HEROES was one of my gifts. Then one month later in January 1966, the "Batman" tv show debuted, for better and worse.
This AURORA COMIC SECTION was produced by the Harold J. Siesel Co. and it was a quality presentation all around. The October 12, 1965, issue of EDITOR & PUBLISHER even noted the unique "comic book look" of the advertising section in an article. Most of the artwork appeared in ads in contemporaneous comic books, but they were reproduced here on better paper and with better inks. The resulting color was beautiful.
I can identify a few of the artists involved. Neal Adams was almost assuredly the artist on the "Great Moments In Sport" ad depicting Babe Ruth. And it's a Curt Swan face on the body of Superman on the page featuring his model. I leave it to others to identify the other artist involved with the various ads.
All copyrights belong to the respective copyright holders. This material is presented for historical purposes and is to be used for noncommercial, personal use only.